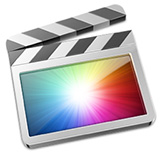 by Larry Jordan
I don't think there is anyone outside of Apple who knows what all the icons, symbols and alerts in Final Cut Pro X are, much less what they mean. Still, I had some extra time this weekend and decided to put together an illustrated list.
So, here are more than 50 icons and indicators, grouped by the panel in which they appear, with a short description of what they mean.
NOTE: For the most part, I excluded icons which you click to do something; in other words, buttons.
GENERAL

Blue indicates something that is active (turned on), gray is something that is inactive.
LIBRARY LIST

A Library.

An Event

SUMMARY
Here is a link to a summary of alert icons that Apple has available on-line.
I'm sure there are more that I haven't found. Send me what you find and I'll add it to the list. As always, I'm interested in your opinions.