by Larry Jordan
With the release of macOS Mojave (10.14), Apple is continuing its conversion to 64-bit applications that it first began many years ago. In the next major version of macOS afterMojave, this conversion will affect media which relies on older 32-bit codecs. We are all used to applications which may not be compatible with an operating system upgrade, but with an upcoming release of macOS, some of our older media won't be compatible either.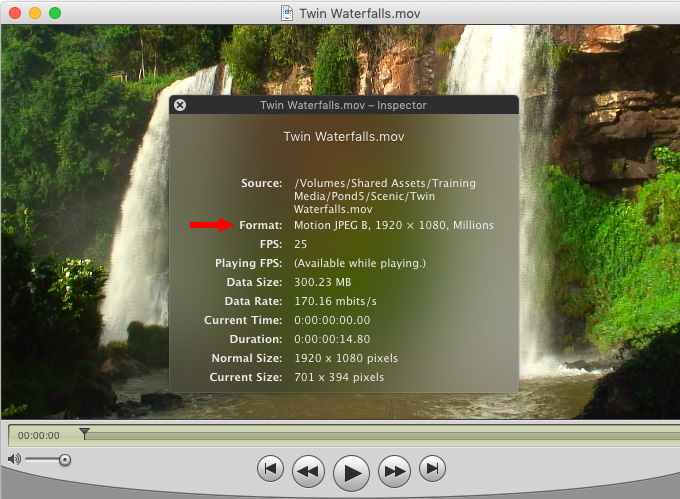 CODEC: A mathematical algorithm that converts light and sound into binary ones and zeros to allow us to store media in a computer and play it back. Media is recorded and played back using encoders and decoders which are based upon these codecs. There are codecs for stills, audio and video, each optimized for different tasks.
What this change means is that if you try to play media which uses one of these older codecs in the next version of the macOS AFTER Mojave, your media WILL NOT PLAY!
NOTE: To be very clear, Apple confirmed that "macOS Mojave — including all dot releases of this operating system — will be the last major version of macOS to support the legacy 32-bit codecs identified in this article."
This is because these encoders are like mini-applications that require support from the operating system in order to convert the binary data of our media files into sound and light. Older codecs which use 32-bit encoders and decoders won't have the support they need to play, which means you lose access to any media stored in one of these older formats.
The media is not 32-bit, but the encoders/decoders, which are required to play or record the media, are. These older codecs, which are built upon the QuickTime 7 framework, include:
Avid DNxHD / DNxHR
Avid DV / DV100 / JFIF / Motion JPEG
CineForm
Flash Video
Motion JPEG A
Motion JPEG B
And many others.
You may have seen the ominous, but vague, warning in Final Cut about legacy media. This morning, Apple updated their KnowledgeBase website to include MUCH more detail on what codecs are affected and which ones are not.
Here's the link: https://support.apple.com/en-us/HT209000
WHAT THIS MEANS
The short answer is that, depending upon the codec, we may need to convert any older media using soon-to-be-dead codecs into a codec that is more future-proof. These supported codecs include:
Apple ProRes
AVCHD
AVC-Ultra
DV (in all its flavors)
REDCODE RAW
XAVC
And many others – see Apple's link for the complete list
This gets complex because codecs which are created outside of the QuickTime framework will work. Codecs that are built on the QuickTime framework, will not.
Ohhhh, so much more from Larry Jordan here…